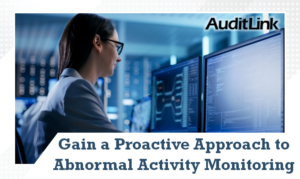 A proactive approach to monitoring abnormal activity is expected of financial institutions, and can be used when determining if a credit union is adhering to FFIEC guidelines when monitoring high-risk accounts.
AuditLink's Abnormal Activity Monitoring tool was designed to quickly sift through transaction activity from every point of origin in CU*BASE, bringing special attention to accounts which warrant additional research and review.  We offer two options: the first is a one-time configuration of the tool, with a web conference to walk your team through how it can be utilized for monitoring high-risk accounts.  The second is a full-service performed by the AuditLink team, which includes the configuration, review of account transaction activity, and a monthly report provided to your credit union.
Ready to learn more about Abnormal Activity Monitoring?  Click below to visit our store!