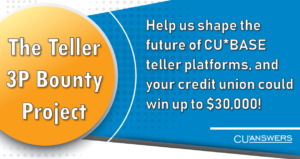 As introduced during the 2018 Leadership Conference, CU*Answers wants to work with credit union leaders to design the next generation of teller tools!  The evolution of credit union tactics for lobby services requires us to look beyond a single teller system – our goal is to develop three distinct teller platforms, each with independent approaches:
Soup-to-Nuts (S2N): The next generation of our existing comprehensive teller platform.
Basic (KISS): Across-the-counter teller tool, streamlined and simplified for today's teller lines.
Floating (Tablet): App for roving tellers, API-based to also support integrations to third-party teller platforms.
Enter your ideas for your chance to win up to $30,000 in prize money!*
The deadline to submit your proposal is March 31st – don't miss out!
*Please remember that for anyone to win, CU*Answers must receive at least 5 submissions for each platform.  That means if we only get ideas for platform 2, no prize money will be awarded.  So encourage your friends and network colleagues to participate!
For a full list of contest rules, click here.  For additional information, visit the Kitchen page.