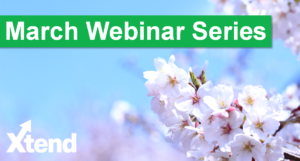 Coming Up This Week!
Each month, Xtend offers FREE webinars focused on lending, marketing, and member service; these engaging webinars provide credit unions with helpful products, services, and industry tips to give them the leading edge.
Tuesday, March 17
11:00 AM – 11:30 AM PT
Contact Center Services Webinar
With the Xtend Contact Center, we offer many ways to reach out to members, boost customer interaction and create easy ways to access credit union amenities.  The Xtension Contact Center has varying services available including custom call campaigns that you're able to organize depending on your needs.  Among the Xtension Contact Center services are inbound member service calls, targeted outbound campaigns, web chat, and others that will be discussed in the webinar!
Thursday, March 19
11:00 AM – 11:30 AM PT
Our series of personalized emails create both a welcoming and educational digital marketing path that will help guide your new members along the most important steps of their credit union journey.  Each new member will be automatically launched into this automated program upon opening of their membership.  Over the next 90 days, they will receive onboarding emails based on 8 pre-defined NMO touch points.  We will leverage live data and dynamic content to provide personalized and relevant content that can be specific to their unique membership.