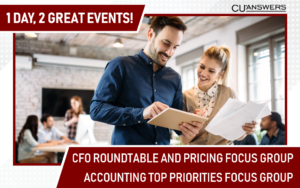 CFOs and accounting leaders: join your peers for a discussion of network solutions available as you finance professionals and learn more about what drives development at CU*Answers.  Join us for the following events on Thursday, April 11th, and help us shape the solutions being developed by our CUSO for your teams!
CFO Roundtable and Pricing Focus Group
9:00 AM to 12:00 PM ET
The CFO Roundtable is a networking session for CFOs, similar to our CEO Strategies series, where CFOs and accounting leaders can discuss their common goals and challenges.
At this year's Roundtable, we'll also present another 5-year recap of our pricing performance.  This will be the 4th Pricing Focus Group since the inaugural event in 2004, and represents a unique chance for owners and vested clients to interact on how CUSO pricing designs affect credit union budgets and operations.  For pricing to be a sustainable competitive advantage for our CUSO, it has to come from a close partnership with all of you.
Accounting Top Priorities Focus Group
1:00 PM to 4:00 PM ET
One our most popular Focus Groups returns!  Join us for a review of the latest updates to CU*BASE accounting software and discuss what is on the minds of our users.  We will also highlight specifications for new or recently-enhanced tools, and look ahead to what our next accounting development priorities should be.
Lunch will be provided between these two events.  For additional information, visit our website.