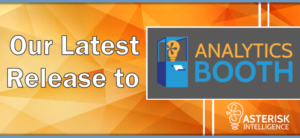 The Asterisk Intelligence Team is excited to present the AB_20.06 Analytics Booth Release, arriving to Analytics Booth subscribers on Sunday, June 28!  This release features:
The ability to refine the reporting frequencies for Everything Alerts
Additional ways to run tests over your Alert data points
Time saving Trends Changes
Phase II of the 2020 Analytics Facelift
Learn More About the Analytics Booth Release
Join the Asterisk Intelligence Team for a release review.  We will discuss these new features, and how they can be integrated into your daily operations to improve your data-driven strategies!  Join us for one of two review sessions (select your preferred date and time from the drop-down box on the registration page).
Thursday, July 9
1:00 PM – 2:00 PM PT