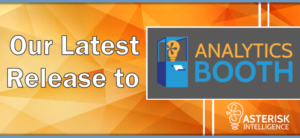 Coming to Analytics Booth Subscribers Monday, February 25
The Asterisk Intelligence Team is excited to present the first of many web-view dashboards, Power Lines, brand new accrual dashboards, and integration from CU*BASE to Analytics Booth. Check it out!
Learn More About the Analytics Booth Release
Join the Asterisk Intelligence Team for a release review.  We will discuss these new features, and how they can be integrated into your daily operations to improve your data-driven strategies!
Wednesday, February 27
12:00 PM – 1:00 PM PT