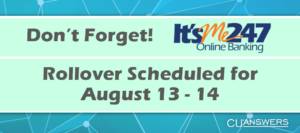 Don't forget – the next rollover for It's Me 247 is scheduled to take place between Tuesday, August 13 at 3:00 AM PT and Wednesday, August 14 at 3:00 AM PT. Our goal is to ensure our ability to provide the products and services you count on us for, even when we're experiencing disruptive events.
To achieve the full benefit from this exercise, we're asking all credit unions to test access to the features your members use in online and mobile banking, including access to electronic documents such as check images, and to communicate any issues that are reported to the Client Services Team at CU*NorthWest.
While we do not anticipate any significant issues during this rollover, below are some helpful questions to ask when gathering information to report any issues you may encounter:
Which web browser were they using when accessing It's Me 247, including the version?
What operating system were they using, including the version?
Were members using desktop banking, mobile app or mobile web?  If they were using mobile banking or mobile web, which version?  (This can be located under 'Settings and Info' for mobile app.)
What type of device did the member use?
What time of day did the member experience the issue?
If members encountered an error message, what did the message say?  Did they take a screenshot of the error message?
During the rollover and rollback periods (3:00 AM PT on both Tuesday and Wednesday), we expect a brief interruption to online and mobile banking services as Internet traffic is redirected.  This interruption may last as long as 30 minutes for some members.