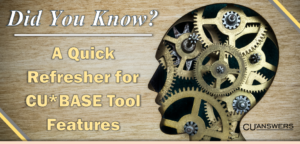 Did you know you can configure your online banking loan officer names for friendlier communication with members?
Setting your online bank officer names can help expedite requests for members to their favorite loan officer!  You can edit how the name appears; to show only a first name, a nickname, or even something generic such as 'car loan specialist.'
To configure the names that will appear in a drop-down list next to the 'Preferred loan officer' field in the online loan application (which is used by online banking, websites, and other external channels), use Tool #563 Online App Loan Officer.  All names on the list are linked to a CU*BASE ID, and once selected by the member, the name will appear as the Interviewer on a loan application.  If no name is selected as the 'preferred lender' on online loan applications, CU*BASE will automatically assign employee ID 96.