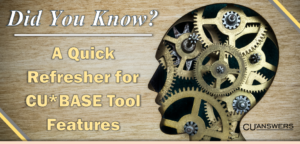 Did you know: Skip-a-Pay for Weekly and Bi-Weekly Loans
Did you know that members with weekly and bi-weekly payments can use the CU*BASE and It's Me 247 Skip Pay programs to automatically skip a payment?  Previously, members with these frequencies received an error message when they tried to skip a payment online.  Now, the Skip Pay feature works for them just as it does for your members with monthly payment frequencies, under the same programs you already have set up!
Configure program(s) using the same consumer skip pay features you are already used to in CU*BASE and It's Me 247.
Regardless of the frequency, one month's payments will be skipped. 
Have questions? Contact the Lender*VP team!