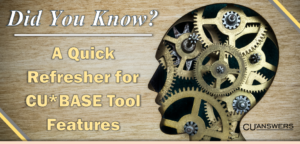 Did You Know: Find FREE Opportunities for Loan Cross Sales with Refinance Triggers
Help strengthen your existing cross sales program or lay the foundation to start a new culture.  Make your loan interview for one loan be an opportunity to sell another!
When you analyze your member's credit report, it is a great time to cross sell a member on a second loan.  With Refinance Triggers if you can tell at a glance if you can lower the member's payment on their boat, credit card debt, second car, or even a mortgage!
Once you activate Refinance Triggers, the CU*BASE LOS loan application Debt screen displays an estimated rate the member is paying your competitor loan, and if you can offer them a better rate.  The rate on other loans comes from the data mining your credit score data.
The better rate you can offer is highlighted to alert you of the competitive rate.  There is even a built-in calculator that allows you to calculate your member's new loan payment.
It's just that easy to increase FREE loan opportunities.  Now is the time to activate Refinance Triggers!
Have questions? Contact the Lender*VP team!