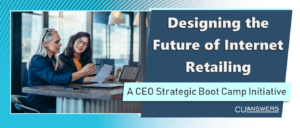 During the CEO Strategic Developers Boot Camp in November 2018, CEOs brainstormed on the future of internet banking from a big-picture, strategic point of view.  In addition to exploring how credit unions envision their internet retailing strategies in the coming decade, CU*Answers reviewed two 2019 initiatives that serve as templates for tactical approaches for internet retailing:  Selling loans via internet channels, and our internet stores.
Join this Boot Camp Task Force and help us determine a vision for internet retailing, imagine new ways for credit unions to sell loans via internet channels, and figure out how to stock the shelves of a credit union internet store.
Tuesday April 23 & Wednesday April 24
Hosted at our headquarters in Grand Rapids, MI
We will also be hosting a webinar where we will discuss current and upcoming efforts, with topics including: non-credit bureau decision models, no credit check loans, instant loans, and pre-approved credit card offers.  Join us on Thursday, March 14, from 10:30 AM – 11:00 AM PT.