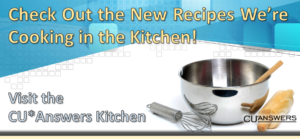 Have you visited the Kitchen lately? If not, take a look at our newest projects:
Authentication Enhancements for Online/Mobile Banking
Enhancements to the Credit Card Cash Back (CCCB) Feature
Tracking Recoveries on Written-off Loans
Each of these recipes includes a place to provide comments, suggestions, and additional feedback. Visit the Kitchen today – we'd love to hear from you! We encourage you to take a look at some recent updates to other projects while you're there too.