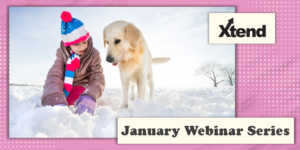 Coming Up Next Week!
Each month, Xtend offers FREE webinars focused on lending, marketing, and member service; these engaging webinars provide credit unions with helpful products, services, and industry tips to give them the leading edge.
Tuesday, January 29
11:30 AM – 12:00 PM PT
7 Things Your Digital Signage Strategy Might Be Missing
Digital Signage is the best way to communicate with your audience.  According to a study by Intel, digital displays receive 400% more views than static displays, giving you a better chance of communicating the right message at the right time.
This webinar, provided by expert strategists at Revel Media Group, is for anyone who is using or interested in using digital signage.  You'll learn concrete tips and tools to increase the success of your strategy and make your message heard.
Wednesday, January 30
11:00 AM – 11:30 AM PT
Losing the Love: Recapturing Your Memberships
Members don't always verbally tell you that they're leaving the credit union, but their actions often do.  Xtend has studied the steps that members take before they completely leave the credit union, and has prepared action items and follow-ups to help you keep more members around.
Recapture the love your members are losing with Xtend's Losing the Love marketing program, and increase your member retention today!
Thursday, January 31
11:00 AM – 11:30 AM PT
Quarterly Campaign Summaries – How Did We Do?
Over the most recent quarter, Xtend's Communications Team has been very busy connecting with members and ensuring that our clients' marketing efforts have been coordinated efficiently.  Join us on January 31 to chat about the previous quarter's highlights, features, and successful marketing efforts as we move forward into the next quarter.  This webinar is just one more way that Xtend is leading in communication and providing inspiration and creative marketing ideas for our clients.