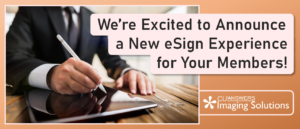 Don't forget: Imaging Solutions, in partnership with Mobile Technologies Group and eDOC Innovations, will be bringing a new eSign experience for your members!  Starting tomorrow, May 27th, the following enhancements will be available as part of eDOCSignature both online and via mobile:
A cleaner, more intuitive interface.
As before, members can still receive email notifications to facilitate signing or they can receive notifications by logging into It's Me 247 online banking and sign in our virtual closing room.
New document review step to allow the member to review their documents before being asked to sign. Familiar zoom controls and on-screen instructions will help guide members through the process.
Only one step is required to adopt a signature!  Members can see how the signature will look on the finished document before signing and can optionally review terms and conditions.
Once the process is completed, members can download PDFs of the signed documents.
These modern updates present an eSign experience that is unlike anything else on the market – a clearer, cleaner and more polished experience that reflects the way that members are now interacting with signing documents!  Interested in checking out the new look and feel today?  Click here for a visual overview!