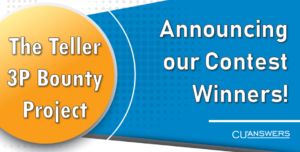 We appreciate all of the creative people who participated in the Teller 3P Bounty contest.  The rules required at least five entries per area (T1, T2, and T3) in order for contest winnings to be awarded.  We are happy to announce that we received a total of 17 entries, so all $30,000 in prize money will be awarded!  Congratulations to our winners (in alphabetical order):
Grand Prize Winners ($7,500 each)
Allegan Credit Union
Pinnacle Credit Union
RVA Financial
Honorable Mention Winners ($2,500 each)
Honor Credit Union
Horizon Utah Federal Credit Union
Notre Dame Federal Credit Union
Awards will be processed and paid to the winning credit unions in the next week or so.  The team is now taking a deep dive into all of the ideas we received, and we look forward to sharing what we've learned and what we're working on at the "Designing Teller Platforms for our Future" Task Force event coming up on May 29 & 30.  Spots are still available, so visit https://www.cuanswers.com/resources/kitchen/teller-3p-taking-a-new-teller-approach-to-the-future/ to learn more and to register!