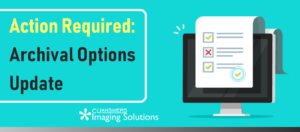 ATTENTION ONLINE CREDIT UNION CEOS
Attention Online Credit Unions that use CU*Spy: there are Archival Option Updates that are required of your credit union.
CU*Answers Imaging Solutions will being archiving AP Invoices, Member Forms, and Photo IDs.  We will also be purging AP Invoices that are older than 18 months.
Please review and complete the form below.  This form must be submitted by Thursday, February 28, regardless of your elections.  If you have any questions, please contact CU*Answers Imaging Operator Scott Shippy at 800-327-3478 extension 539.