Greetings from the Asterisk Intelligence Team!  Today's tips are for our fellow analysts who need to work with data on mobile deposits (RDC) – use the information below to start or enhance your efforts to analyze the RDC service's recent activity.
Tips for Analyzing Mobile Deposits:
Large Deposits – Monitor for repetitive checks at or near the maximum daily limit.  If you have no daily limit, choose an amount threshold and evaluate for concern any high amounts over that threshold.
Comparative Evaluation – For a specific project, or a more advanced study – pull two or more periods of time and compare the results.  Total deposit amount, average deposit amount, number of checks, posting error ratio, breakouts of weekend volume, checks per member, etc.
Monthly Trend – A simple trending chart is a great place to start.  Set it up as the day-by-day or week-by-week trend for number of checks and total deposit amount.  Study the patterns to establish a baseline understanding of usage or to raise awareness when significant changes to member engagement levels occur.
Here's an example of one we made: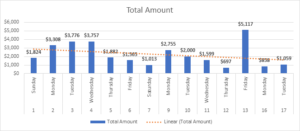 Tips for Finding the Data:
The approach to finding data on Mobile Deposit (RDC) activity will depend on what systems and processes are used to post them to the member's account. Answers for multiple situations are posted online in the Knowledge Base resource: https://kb.cuanswers.com/cuanswers/ext/kbdetail.aspx?kbid=4712.
What else are you focused on and how can we help?  The Asterisk Intelligence team specializes in data analytics and data warehousing for credit unions.  Contact us at: ai@cuanswers.com.