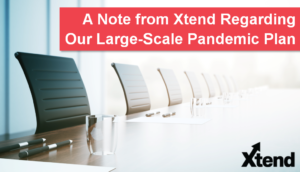 Dear Valued Partners,
As concerns continue to grow around the COVID-19 outbreak, Xtend would like to share our large-scale pandemic plan with our clients.
Each year, our management team and board work through disruptive events and incorporate them into our Business Continuity Management Plan.  This includes pandemic scenarios that have the potential to generate a large-scale absence of staff as well as our ability to deliver and support our products and services.  Through this process, we look at each of our business units to determine the minimum number of staff required and how large-scale absences may impact service delivery over a length of time.  Click here to view our Business Continuity Plan (page 34-36).
Our ORD/HR team coordinates information and reminders to staff of proper hygiene during seasonal influenza months, and encourages staff to remain at home when ill.  During significant outbreaks, executive management may restrict events that involve staff travel, as well as on-site or off-site engagements to minimize the risk of exposure to staff and guests.
Alongside our cuasterisk.com partners, we will continue to monitor the COVID-19 outbreak and make decisions if any triggers are detected that would invoke the next steps in our response process.  We will communicate any actions and alerts with you through the established channels as necessary.
If you have any additional questions, please contact us at info@xtendcu.com, or text or call us at 800-327-3478 x 313.