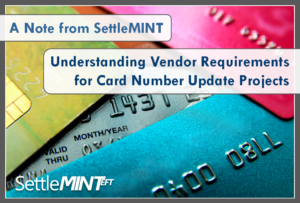 In 2018, we sent a notification that we were working on an upcoming mandate (Visa Account Updater/Account Billing Updater) that would allow for credit unions to select old card numbers when replacing a new card.  During the process, we have discovered that each vendor required something different, and that our understanding of each vendor's requirements was not as clear as we initially believed.  As such, this required us to go back and adjust these projects multiple times.
At this time, we have invested more than 600 hours into these projects and our team is working hard to complete the process as quickly as we can while ensuring that what we are doing meets the requirements for each vendor.
We were recently notified of a requirement by Mastercard that states that credit unions must have a 95% participation rate, and starting in July, if that participation rate is not met Mastercard may fee credit unions.  While our team continues to work on batch maintenance to make this process automated, we encourage you to contact your vendor to determine what needs to be done on their end regarding new and replacement cards.  This will help ensure that your credit union meets the requirements and that you are not subjected to fees.
As we seek to implement these projects, we will be doing so based on each vendor's requirements, with notifications sent to each credit union.  As previously mentioned, each vendor is different, so we will be sharing any additional items that you should know at the time of implementation.
Please feel free to reach out to the SettleMINT EFT team if you have any questions.