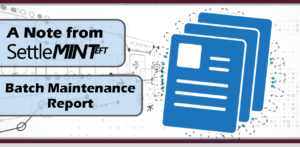 On Tuesday, January 22nd, we will be launching a new batch maintenance report.  This new report, LXMTPAN1B, will automatically be routed to your DAILYxx outq and CU*Spy.  Your first report will be available on Wednesday, January 23rd.
The LXMTPAN1B report will be created with each successful transmission of batch maintenance.  Please review this report daily to ensure your vendor accepted your card maintenance for the prior business day.
You will receive one report for each transmission file – depending on your vendor, you may receive more than one report – one for card orders and another for card maintenance.  Similarly, if your credit union is partnered with more than one vendor, you will receive separate reports for each vendor.
For questions about the report, please refer to your vendor manual, or contact SettleMINT EFT at settleminteft@cuanswers.com.