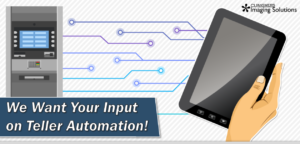 Has your credit union purchased ITMs or other Self-Service Kiosks?  Which firms are on your list of possible vendors?  Maybe you have interest in the option to leverage teller automation environments, but have been waiting for integration that connects it to CU*BASE?  Perhaps you have been advertising virtual tellers or have a teller tablet app on your wish list?
Get involved with the conversation, and help us build solutions for Teller Automation!
Send us your strategic plan for Teller Automation – let us know what processes you have in place today, as well as investments you are going to be making in the near future.  We will also be studying CU*BASE Teller Projects as part of our upcoming November CEO Strategic Boot Camps – we encourage CEOs and senior-level executives who wish to contribute their ideas to register for this event.  We look forward to working towards new solutions together as a cooperative!
Connect with John Beauchamp via email: jbeauchamp@cuanswers.com, or by phone at: 616-285-5711 ext. 228.