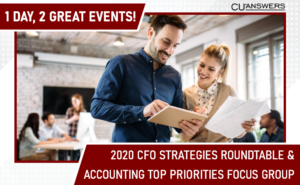 CFOs and accounting leaders: join your peers for a discussion of network solutions available to you as financial professionals and learn more about what drives development at CU*Answers.  Join us for the following events on Wednesday, April 8th, and help us shape the solutions being developed by our CUSO for your teams!
CFO Strategies Roundtable
9:00 AM to 12:00 PM ET
The CFO Roundtable is a networking session for CFOs, similar to our CEO Strategies series.  Engage with other CFOs and accounting leaders to discuss tools and network solutions, and learn more about what drives our development choices as a CUSO.
Accounting Top Priorities Focus Group
1:00 PM to 4:00 PM ET
One our most popular Focus Groups returns!  Join us for a review of the latest updates to CU*BASE accounting software and discuss accounting projects that are currently in the pipeline.  We will also highlight projects that are in the works and will look ahead to determine what our next accounting development priorities should be.
Lunch will be provided between these two events.  For additional information, visit our website.